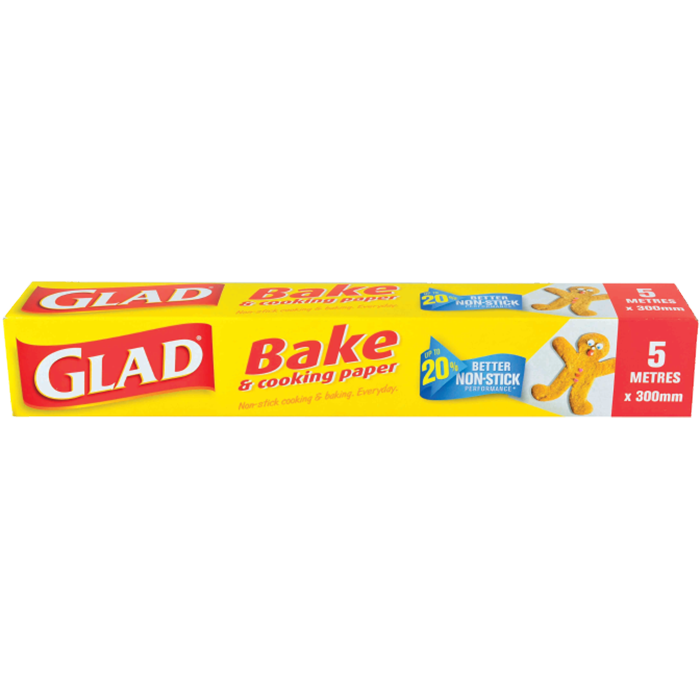 Food Care
Glad® Bake & Cooking Paper
Glad® Bake & Cooking Paper
GLAD continues to innovate and improve and has just launched Glad® Bake and Cooking Paper with 20% better non-stick performance.
Glad® Bake & Cooking Paper is a non-stick baking and cooking paper that eliminates the need to grease trays and pans enabling you to cook with less mess and no oil.
Glad® Bake boasts many uses and features:
Line cake tins and baking trays to prevent food from sticking
Ideal for pan frying because it eliminates the need for additional cooking oil, providing an oil-free way of cooking
Withstands temperatures of up to 230°C making it ideal for use in both microwave and convection ovens
This means that your chicken wings will come out golden brown and sticky — but your pans won't. Giving you less to clean is just another way GLAD makes every kitchen simply better.
We all live busy lives and want convenience and simplicity where it counts — such as non-stick cooking where no oil is needed and the food glides off the pan, this means less messy pots and pans to clean. Great time-saver, as well as less water and detergents needed.
GLAD — Making Life a Little Easier.
Non-stick Guarantee

Heat Resistant

Oven Safe

Prevents Foods from Sticking