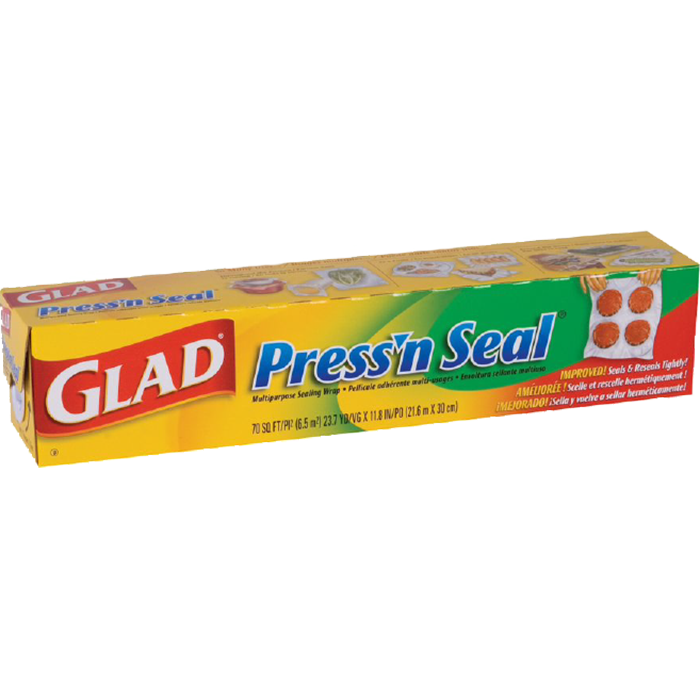 Food Care
Glad® Press'n Seal® Wrap
Size: 216mm x 300mm x 6.5m2
Glad® Press'n Seal® Wrap
Glad® Press'n Seal® Wrap is a whole new, versatile food storage wrap that combines many benefits of today's wraps, foils, and food storage bags or containers. It goes where no wrap has ever been. While other wraps cling, Glad® Press'n Seal® wrap actually seals to surfaces including plastic, paper, wood, metal, Styrofoam® containers and glass. It's the first sealable plastic wrap.
Glad® Press'n Seal® Wrap lets you create a custom fit to seal freshness in. Glad® Press'n Seal® Freezer Wrap is a new way of storing foods in the freezer that helps seal in freshness and seal out freezer air. Create your own custom bags or freeze in individual portions. You can help keep food fresh in the refrigerator and freezer, help prevent spills and use it in the microwave, too.
Thousands of uses. Throughout the kitchen, around the house and outdoor. Microwave-safe.
Freshness Shield

BPA Free

Prepare, Portion, Protect

Locks in Freshness