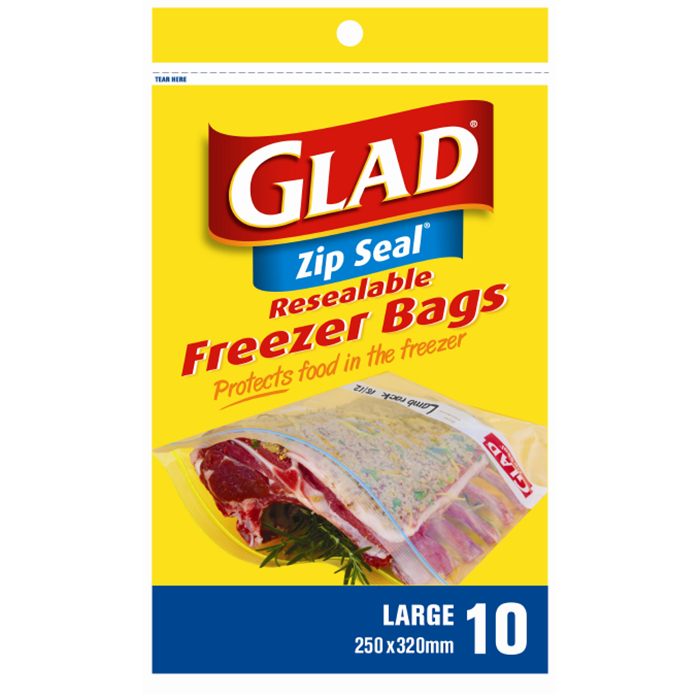 Food Care
Glad® Zip Seal®
Size:
Freezer Large 10's 250mm x 320mm
Glad® Zip Seal®
Glad® Zip Seal® Resealable Bags are the only unique bag that guarantees to lock in freshness. With the blue and yellow strip it becomes green when closed, so that you know it is sealed tight. Glad® Zip Seal® Resealable Bags can be used to store or freeze any type of food. GLAD has added Resealable Storage Bags to the Zip Seal® range.
These new trendy storage bags STAND UP!!! The bag boasts a flat base gusset that gives more breadth. This increases the capacity and allows them to stand up easily. This brand-new product from Glad® is made from strong material to keep food fresh for longer, its transparent, allowing you to see immediately what's inside AND conveniently displays measurements on the bag so you know exactly how much of your ingredients are left. Plus they have a printed white strip already on them, to write on the contents and date stored.
The new Glad® Zip Seal® Resealable Storage Bags come in two sizes. The smaller bags are ideal for snacks, while the medium size bags are perfect for storing flour, sugar, pasta, cereal, biscuits and sweets — the list is endless. With Glad® Zip Seal® Resealable Storage bags you seal in freshness and keep moisture out.
Freshness Shield

BPA Free

Prepare, Portion, Protect

Locks in Freshness